Dear Alex,

Hi! How are you? I am doing great! I have good news. Our miracle is here. She decided to come early and was born Friday, 9/8 at 3:42 p.m. (my due date was 9/30).
She weighed 6 pounds, 3 ounces and measured 20 inches long. She is healthy and perfect!!! Thanks once again for helping our dream come true.
Hope all is well with you.

Maryann

Here's a picture of our miracle.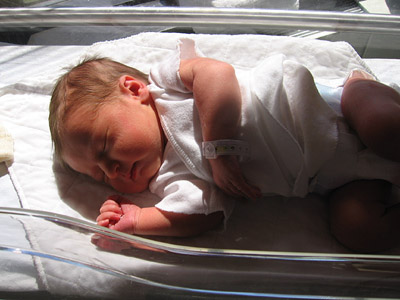 ---
Alexandra,

I just want to thank you for all of your help and inspiration as well. I always feel like you are there to help me in any way you can and helpme relax and feel so much better.
I have suffered years of infertility,but you have been so positive about my situation and never doubting that I can achieve a healthy pregnancy despite my age and the fact that even some fertility doctors have been negative because I am over 40. Even when my spirits are down and I feel defeated and as if Ican't go on with this ongoing battle, you keep me going and give me the strength I need to continue. You are not only a great acupuncturist, but,a wonderful person. It is your sincerity and your unwavering faith
and attention to detail that is truly marvelous. Words can not express how deeply gratefulI am to you for your undying perseverance, kindness, patience and total dedication. I am in your debt. You are an angel.

With Love,

Alice
---
Dear Alexandra Gerazounis,
I would like to thank you for the acupuncture treatments I received this summer.
I would also like to thank you for your kindness and support. Words cannot express
how happy we are to finally be pregnant. I truly believe that acupuncture made all the difference this time with our IVF treatments. This was our third try and we found out last week that we are having three babies! I am so glad that I found you and I am grateful not only for your services but for your friendship and support.

Thank you again!
H.C.
---
Dear Alexandra Gerazounis,
Here he is. Ryan arrived on December 3, 2005. I wanted to thank you for all your
efforts in helping me get pregnant. After almost 3 years of trying losing almost all hope you never gave up and would not let me give up. You were so determined and pushed me all of the way. I am very happy to be one of your first successes I cannot thank you enough. Hope to see you soon.
T.M.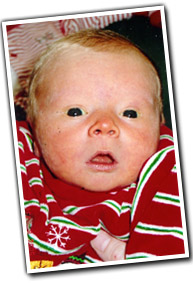 ---
I would like to thank you for your amazing treatment. I have not had a cigarette since April 13, 2004. The urge to smoke has left me. Thank you for your herbs, which helped me, suppress my cravings. I've been a smoker for 25 years. I have tried hypnotism, patches, and cold turkey and nothing helped me until now. I can honestly say, I am a non-smoker.

Dawn
---
I would like to highly recommend The Art of Acupuncture to everyone. (and I regularly do to everyone I know) I have struggled with serious migraines for 20 years. I was under the care of a neurologist and taking imitrex and heavy narcotics just to function every month. When I saw Alex's ad in the Garden City News- on a lark I called and booked an appointment. From my very first consultation I found Alex warm, understanding and knowledgeable. She put me at ease instantly and the treatment itself was soothing and harmless. (I almost fell asleep) From my very first treatment my headaches went away.
It was such a blessing to get my pain free life back.

K.T.
---
As a 19-year-old suffering from Irritable Bowel Syndrome and an overly sensitive stomach I became frustrated with doctors and never ending tests. I decided it was time to take a new approach on dealing with the disease and I turned to acupuncture. The results were immediate and amazing. Alex spent a lot of time discussing my health and helping me cope with the discomfort I had experienced for so long. The treatments have helped me get through my day without feeling nausea and I no longer confine myself to my college dorm because of chronic stomach pains. I no longer turn to harsh medications that always have unpleasant side effects. I am now able to live a healthier and more comfortable lifestyle. Thanks again Alex, you truly changed my life.

L.S.
Baldwin Harbor, NY
---
Before I started acupuncture, I constantly had sinus troubles and migraine headaches.
I suffered so much that I had seriously considered leaving my job. Then I met Alexandra.
At first I was skeptical about the treatment. Surprisingly, I felt significantly better after my first treatment. I felt less stress, could once again breathe easily and my headache disappeared. It has been 3 months since I started acupuncture and I have not had any migraine headaches.

I strongly recommend this treatment to anyone that is experiencing any type of physical discomfort.

Marianna
June 9, 2004
---
In early January 2004, I began feeling ill. I had become very nervous. I had body tremors, I felt hot and sweaty, even though, it was cold outside. My heart was constantly racing and I had difficultly breathing.

After several doctors opinions it was confirmed that my diagnoses was an over active thyroid. Two different prescriptions were recommended, totaling 16 pills per day. This was very frightening for me, considering, that I am only 23 years old.

Later that month I was referred to Alexandra Gerazounis by a friend that was currently being treated by her. After an evaluation, Alexandra suggested that acupuncture and oriental medicine could help me feel better.

I knew very little about acupuncture. Alexandra was very informative about the treatment and its benefits; I couldn't wait to get treated. After my first treatment, the results were unbelievable. Most of my symptoms were gone. I was able to breathe again.
After just 3 treatments, my thyroid levels returned to normal. The tremors, nervousness
,
rapid heartbeat and hot flashes were gone.

Today, I still benefit from the acupuncture performed by Alexandra. I no longer have an over active thyroid.

M.H.
---

At first I was skeptical and quite scared of needles. After the first session the nervousness of the needles disappeared. There was no pain associated with the insertion of needles.


I
began to lose weight right away. I lost 6 pounds after the first treatment and continued to lose 2-3 lbs per week after that. The sessions have decreased my appetite. My back pain is gone. With Alexandra's treatments, I feel incredible. I handle stress better, I am losing weight, and I am pain free. THANK YOU.

Natasha
---
Dear Alexandra,

Thank you very much for healing me. I can't believe you healed my back pain of eleven years with one needle in my ear. It's been three months and I am pain free. Thank you.
I will be in contact with you for some more of those hair-growing herbs. The hair on my head is thicker, fuller and darker. Everyone is noticing. The other improvement with my hair is that it doesn't fall out anymore. Not in the shower or on the brush. This is wonderful. Thanks again.

Steven